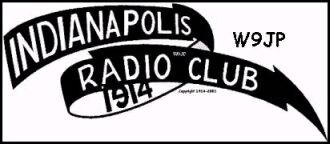 Indianapolis
Radio Club
ARTIFACTS Page
Last up-Date: 21 June 2008
---
Indianapolis Radio Club           &         - W9JP trustee history Club Past meeting, Hamfest & W9JP facts!            
IRC Banner -Logo History
IRC"AMACHEWER"-Logo History
This page contains PDF files of past IRC sponsored ARRL conventions programs,
Indiana Hamfest programs form 1914 to the present. These items are scanned
documents form orginal papers of the IRC history files. They are listed First (1st)
by year of the event and second (2) by pages of that event or files. If no pages displayed click on the 1st left hand listing.
Page is still under construction!
<![if !supportEmptyParas]> <![endif]>
(##).. Contact the IRC Sect. to see W9JP Club station history CD for this information,
---
return to Histroy page