Indianapolis
Radio Club
History Page
Last up-Date: 22 NOV 2008
---

Club 2004 Constitution | Club "2004" By-Laws
---
Club Past Presidents & Life Members Plaque!
IRC Club Life Members Past & Present
Club Past meeting, Hamfest & W9JP facts!

More - Club Past ARTIFACTS .& Past IRC Field day history.!
origin of word "HAM"..! 1951 Ham classes FYI..! What is Wouff Hong award? ..!

Past & Present Indy Area ham clubs, facts!
Club Past Amateur of the Year Awards.
Club Marconi Award Winners for Technical Excellence.
"Bit of Club history found at the 2006 June Auction"
This patch was produced and sold to IRC members several years ago.
( Not currently available)
You might see some of the "Old Timers" wearing one on their Jacket.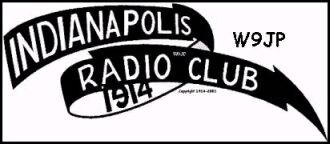 IRC LOGO hand drawn & created by
Alvey Pitman-W9JJC in 1950's
remains the Club standard today.







---
Club Officers / Committees (2003-2009)
---
2009.

Committees:
[]Field Day Chairperson: Tom Chance -..EMAIL K9XV
[]ITC Tech Team: Open
Trustee: Don Hemenover - ..EMAIL N9DOO
Public Relations:

---

2008.
President: Tom Chance - ..EMAIL K9XV
Vice Pres.: Dave Miller - ..EMAIL K9RTT
Sectretary: Ken Bandy - ..EMAIL Ken- KC9GLQ
Treasurer: (2006-2008 June)..Judy Gardner - . AA9GW
Treasurer: (June 2008-): JAY Willever..EMAIL K9LJW
Chief Operator: Steve Wendt - ..EMAIL KB9RDS
Dir. at Large:Hank Wolfla - .. ......EMAIL K9LZJ
Dir. at Large:Tom Price - .. ......EMAIL WB9UNG
Dir. at large:Jim Reinhart - ........EMAIL K9RU


Committees:
Education:...EMAILTom Price- WB9UNG
Operations: Open
;
ITC Tech Team: Andrew-KC9HSW
Trustee: Don Hemenover - ..EMAIL N9DOO

Public Relations:

---

2007.

Committees:
ITC Tech Team: Patrick-KC9GAB & Andrew-KC9HSW
Trustee: Don Hemenover - ..EMAIL N9DOO

Public Relations

News Editor: - ..EMAIL Ken- KC9GLQ
Asst. News Editor: - EMAIL Bob - W9PSE
Web Page Author: Chuck -..EMAIL W9IH
Refreshments:- EMAIL Steve -N9XDT
Phone Calling: Open
Picnic : Joe-K9OOA & Betty-K9OOB;

---

2006.
Vice Pres.: Dave Miller - ..EMAIL K9RTT
Sectretary: Mike Henney - ..EMAIL KE9YA
Treasurer: Judy Gardner - ..EMAIL AA9GW
Chief Operator: Ed Conder - ..EMAIL N9IZN
Director: Dave Jarvis - ........EMAIL N9KZJ
Dir. at Large:Tom Chance - ..EMAIL K9XV

Committees:
Education: Chuck - ..EMAIL W9IH
Operations
;
ITC Tech Team: Patrick-KC9GAB & Andrew-KC9HSW
Trustee: Don Hemenover - ..EMAIL N9DOO

USS Indianapolis ops event: Ed-N9IZN; Chuck-W9IH; Mike- W9IND

Public Relations

News Editor: - ..EMAIL Ken- KC9GLQ
Asst. News Editor: - EMAIL Bob - W9PSE
Web Page Author: Chuck -..EMAIL W9IH
Refreshments:- EMAIL Steve -N9XDT
Phone Calling: Open
Picnic : Joe-K9OOA & Betty-K9OOB;

---

2005.
President: Chuck Crist - ..EMAIL W9IH
Vice Pres.: Dave Miller - ..EMAIL K9RTT
Sectretary: Mike Henney - ..EMAIL KE9YA
Treasurer: Tom Chance - ..EMAIL K9XV
Chief Operator: Trevor Fulk - ..EMAIL N9YM
Director: Joe Labraico - ..EMAIL K9OOA
Dir. at Large: Paul Bohrer -..EMAIL W9DUU

Committees:
Education
(Open)
Operations
Trevor Fulk - N9YM ;
ITC Tech Team: Patrick-KC9GAB & Andrew-KC9HSW
Trustee: Don Hemenover - ..EMAIL N9DOO

USS Indianapolis ops event: Ed-N9IZN; Chuck-W9IH; Mike- W9IND

Public Relations

News Editor: - ..EMAIL Tom WB9UNG
Asst. News Editor: Bob Osterhous- EMAILW9PSE
Web Page : Brian Stone- EMAIL KC9GSA
Refreshments: John- K9GZR, Ed- N9IZN,Tom-KC9GQM; Barb- KB9BSV
Phone Calling: Paul- W9DUU
Picnic : Joe-K9OOA & Betty-K9OOB; Mary-K9OOC; Don-N9DOO; Barb-KB9BSV; Chuck-W9IH

---

---

2004.
President : Chuck Crist W9IH
Vice-President : Don Hemenover N9DOO
Secretary : Maria Chambers KB9RLG
Treasurer : Tom Chance K9XV
Chief Operator : Mike Carmer KB9RBF
Director : Bill Goodall K9DBY
Dir. at Large: Don Fulk KB9EQC Approved May15th
Trustee: Don Hemenover - ..EMAIL N9DOO

Committees:
News Editor: - Temp-Tom Price - EMAILWB9UNG (appointed sep2004)
Asst. News Editor: Bob Osterhous- EMAILW9PSE
Public Relations- N9IZN; N9DOO; W9IH; Wes-N9AJM;Joe-K9OOA; Betty-K9OOB
Web Page : Tom Price- EMAIL WB9UNG
Awards Committee: Don-N9DOO, Mike - WA9FDO, Chuck - W9IH
Constitution & By-Laws 2004 Review committee: N9DOO, K9XV, W9IH.

2003
President: Bill Goodall - K9DBY
Vice Pres.: Trevor Faulk - N9YM
Sectretary: Maria Chambers -KB9RLG
Treasurer: Wade Kingery - W9JGZ
Chief Operator: Mike Carmer - KB9RBF
News Editor: Bob Marschel - KB9TEA
Trustee: Don Hemenover - N9DOO
Director: Tom Chance - K9XV

---

C PAGE LINKS:
IRC Main Page | NEWS | On AIR | Repeaters | Hamfests | Ham Classes | VE TESTING | Ham Youth |

Ham Clubs | other links

---

Please send update information webpage author.see main page